Last updated on June 3rd, 2021 at 04:54 pm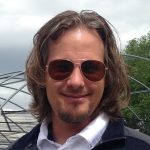 In the early 2000s I worked as a consultant for Novell back in Switzerland. We had a great collaborative international team. One of my peers in the Netherlands became a very close friend of mine. We chatted daily on our corporate instant messaging platform and spoke on the phone frequently, helping each other with our projects.
My friend and I usually addressed each other by our first names, but one day he opened our conversation differently:
Conversation with friend at 2005-02-21 13:34:31
(13:34:31) friend: Mr Anderson.
(13:34:33) friend: Short question
(13:34:40) friend: do you have 2 minutes?
(13:34:42) me: mr. smith?
And from that moment on, we have addressed each other as Mr. Anderson and Mr. Smith in our online conversations.
No, I do not claim to possess the skill level of Neo in The Matrix, nor to measure up in any way to the great Keanu Reeves. But I do like the wave of excitement that washes over me every time I am reminded of that cult movie. Thus the choice of name for this adventure, my new blog.
No, in the real world I am simply Volker Scheuber, a husband to my wonderful wife, and a father to my children. We are currently residing in the Austin, TX area. I work for ForgeRock as a Sales Engineer.